If you have ever downloaded something from the internet, you know that it can be an agonizing ride as you wait to see if the file you just opened spawned viruses on your computer, or if it is actually what you thought it was. It is easy for files to be tampered with once they are online, hackers can inject malware, viruses, trojans and other malcious software unsuspectingly onto your computer by tampering with the contents of downloadable files.
One way to ease the agony is to verify the contents of the files you are downloading by using MD5 or SHA cryptographic hash functions.
These hash functions are widely used to assure the user that the transferred file has arrived the way it was intended to. An algorithm is applied to the file which creates a unique message or hash, (which is said to be as unique as a persons fingerprint) which you can use to then verify the file.
Are you wondering:
How do I verify file downloads using MD5 or SHA?
1. Go to Cnet and download "MD5 & SHA Checksum Utilty"
2. Run the program. Click browse and select the file to be verified.
3. Click the Copy MD5 (or SHA) button and paste it in the bottom field. Click Verify.
4. Verify your MD5 or SHA against one posted by the source of the file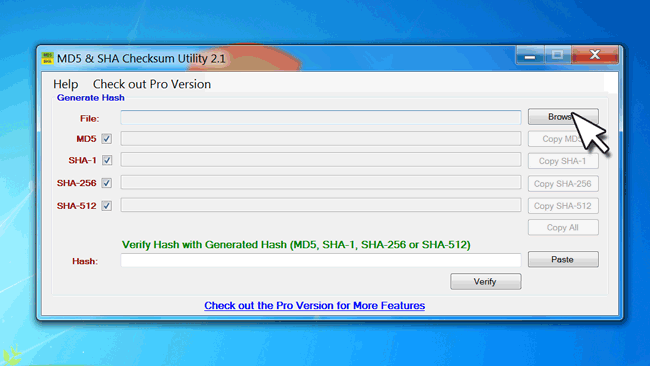 Using these tools will give you peace of mind knowing that you are receiving the files you are anticipating, and that they are in the same condition that the started in. Taking this simple step can save you from a lot of headaches in the future.