Local search results are highly actionable.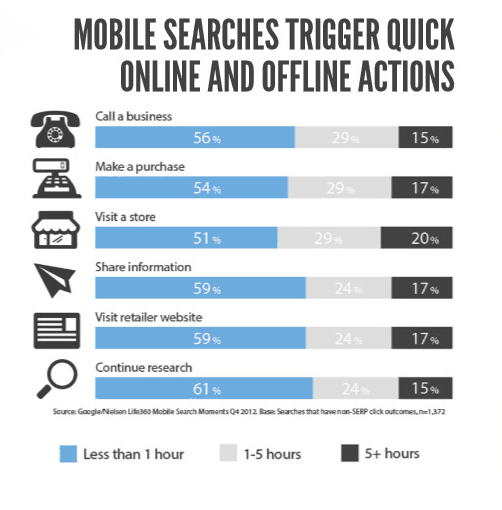 There are now more mobile devices than people in the world. This widespread adoption of mobile devices has changed the way we search the internet. When users conduct a search on their mobile device, more than 40% of the searches are for local information, such as local businesses listings, directions, contact information etc.
These mobile searches for local information are highly actionable, especially compared to traditional desktop searches.
Search engines have taken this into consideration when displaying search results on a mobile device, which is why you will see local listings with a map prominently featured at the top of mobile search result pages.
Of the mobile searches for local information, on average more than 55% of the searches led to a purchase related conversion within one hour.
Claiming these local listings and making sure your business' website and contact information shows up in local searches can increase the likelihood of being able to take advantage of the high conversion rate of local mobile searches. Since local search results are based on the devices location, keeping your business' contact information correct and consistent on the web can play a crucial role in where and how you show up in local listings.
Ready to increase your local search conversion?
Contact me today to discuss specifics about your business and situation.
Formulating a unique plan tailored to your needs will allow us to get the optimal results you require.